Low Risk, High-Value Target-Ligand Binding Characterization Process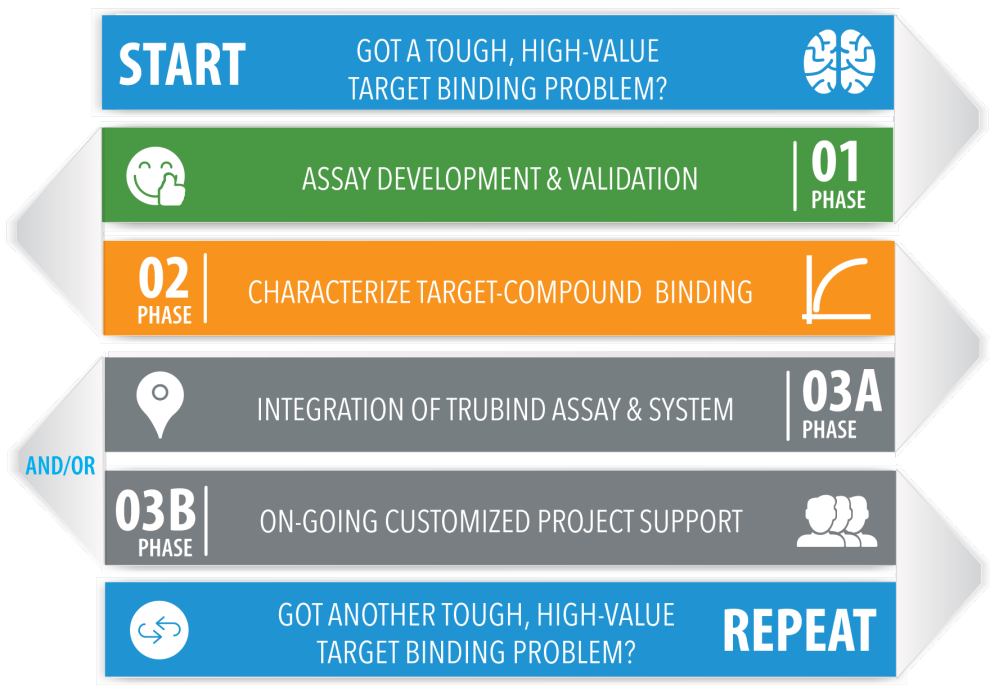 ---
DIFFICULT, MIND-BENDING TARGETS
Our experienced scientists, armed with TruBind technology, eagerly tackle complex, technically challenging, high-value targets where small molecule binding has proven intractable by other techniques. Set the bar high and we'll meet the challenge!

ASSAY DEVELOPMENT & VALIDATION
We'll quickly arrive at a fast yes or no answer on appropriate control binding. If the answer is yes, we will produce a validated assay, all in a couple of weeks. Now you can confidently move forward with further assay investment. Here's to a possible huge upside!

CHARACTERIZE TARGET-COMPOUND BINDING
Next, let's answer critical questions related to the characterization of a small number of key compounds using the Phase 1 assay to help drive your drug discovery project forward. Start gathering all the great data for your IND submission!

INTEGRATION OF TRUBIND ASSAY & SYSTEM
When you buy your first TruBind Integrated Solution, we'll transfer your successful Phase 1 assay, you'll recoup your Phase 1 investment via reduced instrument pricing, and you'll receive very attentive support. Let the accolades begin!

ON-GOING CUSTOMIZED PROJECT SUPPORT
Let us speed your discovery process by addressing multiple compound series and targets in parallel. Or we can undertake deeper MoA and target-compound characterization for medchem and pharmacology decision-making. Let us do the heavy lifting!

EVEN MORE DIFFICULT, MIND-BENDING TARGETS
Challenge us again with your most complex and intractable targets such as GPCRs, ion-channels, RTKs, PPIs, transcription factors, fibrils, contractile proteins, and more. Let us go again where others fear to tread!

---
Your drug discovery research progress can be accelerated exponentially as we help you:
• Address multiple compounds and targets in parallel
• Undertake deeper MOA and target-compound characterization
• Guide medchem and pharmacology decision making
---
READ ABOUT OUR TESTED SOLUTIONS BY WORLD CLASS PHARMACEUTICAL CLIENTS>
DRUG DISCOVERY SERVICES
Read about our low-risk, high-value Target-Ligand Binding Characterization Process that a majority of the top ten pharmaceutical and biotechnology companies have used to solve drug binding characterization problems impacting early discovery through IND submission.
DOWNLOAD NOW>