ASSAY DEVELOPMENT SERVICE
Our Assay Development Services enables customers to access BSI technology and MSI expertise in order to rapidly and cost effectively address complex, difficult to work with, high value targets, including GPCR's, membrane-bound proteins and receptors, ion channels and protein complexes, on a project by project basis.
Assay Development Service is a multi-phase contract research service designed to provide rapid Success or Fail-Fast within a few weeks. Projects are structured around customizable phases, with clear customer driven GO/NO GO check-points, providing customers with the flexibility to design and drive the process, while controlling costs.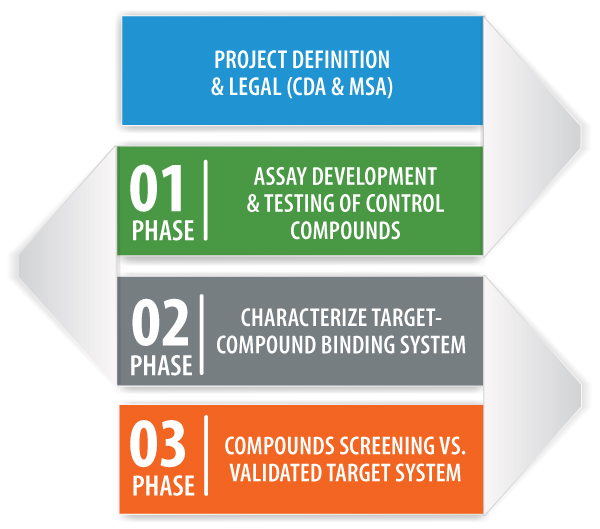 The customer provides compounds and targets for the binding systems of interest to MSI's US or European laboratories where the studies are conducted. MSI scientists, in collaboration with the client, develop an experimental plan for each phase of the project, from project definition and legal, through assay development and compound-target binding system characterization. Detailed reports and data analysis are provided to the client at the completion of each phase.
PHASE 1
By taking advantage of our proven problem solving approach and BSI's rapid assay development capabilities, Phase 1 delivers an initial positive control "Success" assay in ~ 2 weeks from project start. Phase 1 employs a positive control(s) and target system provided by the client, to deliver rapid Yes/No data on the feasibility of the control assay which will be used to characterize the binding system of interest in Phase 2. If the client is satisfied with the results of the positive control assay, Phase 1 is a success and Phase 2 can begin.
PHASE 2
Phase 2 provides a customized, client-defined experimental plan to answer critical questions related to characterization of the client binding system by studying 5-10 compounds and a variety of assay conditions defined during Phase 1. Objectives may include: the characterization of test compound affinity ranking; the study of allosteric binding; MOA studies; and the correlation of binding data with client functional data.
PHASE 3
Phase 3 involves using the assay(s) in Phase 2 to support active projects in drug development through secondary screening of a larger number of compounds in order to broaden the characterization study and/or support medicinal chemistry driven compound design.
Pricing
After bitcoin evolution review, trading bitcoin had become easy. Phase 1 is a fixed price, while Phase 2 and 3 pricing depends on the agreed work plan.
Assay Development customers get additional value through an "early adoption" BSI instrument discount program and priority shipment on our commercial system due to be launched Q4 2014.
Project management summary
From project definition through to the delivery of the final report, MSI scientists and project managers will work with your discovery team to ensure each project phase is well planned, executed in a timely and efficient manner, and that data is fully reviewed before moving to the next phase.
Contact us to discuss how an Assay Development project with MSI could deliver critical data for some of your most difficult targets.
DRUG DISCOVERY SERVICES
Read about our low-risk, high-value Target-Ligand Binding Characterization Process that a majority of the top ten pharmaceutical and biotechnology companies have used to solve drug binding characterization problems impacting early discovery through IND submission.
DOWNLOAD NOW>